Alex Bouhadana, one of the partners in the Equinoxe project on Marc Chagall Avenue, is reported to be part of a group that has purchased Decarie Square. All of the details are  in this La Presse article. The owners say they want to revitalize the property with a $400 million project, which could include  up to 750 residential units. City Council will be discussing this in great detail as proposals come our way.

Here is a translation of the La Presse article and the original French version below.
 A group of Quebec businessmen have just got their hands on the Carré Décarie Shopping Centre for $42 million. Their ambition: to invest an additional  $300 to $350 million to replace it with 14-storey towers,  housing 700 homes, commercial spaces and a medical tower.
 However, this new project will have to be analysed by the municipal authorities in the context of the already very heavy road traffic in the area. According to the deed of purchase dated October 24, the shopping centre belonged to the Azrieli Foundation, created by the late Quebec billionaire David J. Azrieli.
The new owner is officially the Carré Décarie Shopping Centre Limited Partnership, created specifically for this transaction. It is owned by the company 2bd (formerly Trätor Realty), which has four shareholders: Daniel Assouline, Daniel Benchtrit, Alexandre Bouhadana and Albert Lévy.
The 350,000 square foot building is valued at 28.2 million square feet, including land. Built in 1976, it includes some thirty stores, including Dollarama, Winners-HomeSense, Rubino and Proxim. There is also a dental clinic, a medical centre, offices of the Société de l'assurance automobile du Québec, a cinema and a car wash, among others. The investor group aims to reduce the amount of retail space (from 550,000 square feet to 250,000 square feet) and improve its quality. In addition, it will focus more on medical and residential uses.
Global transformation
"We are thinking of destroying the centre as it is and rebuilding it from A to Z. We are talking about a global change of location. We're not very proud of what we bought, but we have a very beautiful lot and we're going to make it something very beautiful," said Daniel Assouline, one of the four owners.
More precisely, the quartet wants to build three towers comprising "between 650 and 750 units," after having erected another one essentially for medical purposes. The clinic, which currently leases 40,000 square feet, would double its size.
Some merchants will remain in the project. "Winners absolutely wants to stay and we absolutely want to keep them, so we'll accommodate them," says Mr. Assouline.
Work should be able to begin quickly, in "12 to 18 months," according to Mr. Assouline, since "we are not asking for any zoning changes. All projects meet the standards as they are today." However, in the City of Côte-Saint-Luc, the urban development department states that "no residential use is planned within Zone IN-1," in which Carré Décarie is located.
 The very idea of densifying the neighbourhood is "commendable," says Councillor Dida Berku, who is also chair of the Urban Planning Advisory Committee. But the elected official believes that solutions must first be found to reduce traffic congestion "in the Décarie corridor", where there are "thousands of housing units under construction at the moment", including the Westbury. In her opinion, the current situation is already catastrophic, and there are plans to build the Royalmount and fill the racetrack grounds.
"The corridor is congested seven days a week, 24 hours a day! I have brought together mayors from all cities and boroughs to discuss how to cross Décarie. This has made it a major challenge. Sometimes it takes four or five lights before it can pass! It is certain that the Decarie Square project will not be completed until we have a transportation plan that allows for rapid mobility. We are landlocked, crossing or boarding on Décarie is a major obstacle, and there is no solution in sight. We will be responsible before saying yes to major projects. »
Two other residential projects
In parallel with the revitalization of Carré Décarie, 2bd will build the second tower of its Equinox project of "rental condos" on Marc-Chagall Street, also in Côte-Saint-Luc. It has 310 housing units. The first sod-turning is due in a week. "It's a top-of-the-range product[...] It's still what we build. This is our business philosophy," says Mr. Assouline, whose other towers of this kind are located in Laval.
The company also plans to start building 650 units on land it owns near the Place Vertu shopping centre, at the southeast corner of Cavendish and Thimens streets.
The Borough of Saint-Laurent confirmed that the project had been approved, but "the permit was not granted, because there is still a technical problem with the groundwater table". According to Mr. Assouline, the work should start in a month.
Translated with www.DeepL.com/Translator
Un projet immobilier de 400 millions près de l'hippodrome

Un groupe d'hommes d'affaires québécois vient de mettre la main sur le centre commercial défraîchi Carré Décarie pour la somme de 42 millions. Leur ambition : investir de 300 à 350 millions supplémentaires pour le remplacer par des tours de 14 étages abritant 700 logements, des espaces commerciaux et une tour à vocation médicale.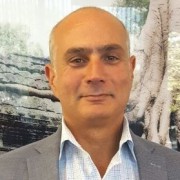 Alexandre Bouhadana
PHOTO TIRÉE DU COMPTE LINKEDIN
Ce nouveau projet devra toutefois être analysé par les autorités municipales dans le contexte d'une circulation routière déjà très dense dans le secteur.
Selon l'acte d'achat daté du 24 octobre, le centre commercial appartenait à la Fondation Azrieli, créée par le milliardaire québécois David J. Azrieli, maintenant décédé.
Le nouveau propriétaire est officiellement la Société en commandite centre commercial Carré Décarie, créée expressément pour cette transaction.
Celle-ci est détenue par l'entreprise 2bd (ex-Trantor Realty), qui regroupe quatre actionnaires : Daniel Assouline, Daniel Benchtrit, Alexandre Bouhadana et Albert Lévy.
L'immeuble de 350 000 pieds carrés est évalué à 28,2 millions, terrain compris.
Construit en 1976, il regroupe une trentaine de magasins, dont Dollarama, Winners-HomeSense, Rubino et Proxim. On y retrouve aussi une clinique dentaire, un centre médical, des bureaux de la Société de l'assurance automobile du Québec, un cinéma et un lave-auto, entre autres.
Le groupe d'investisseurs ambitionne de réduire la superficie consacrée aux commerces (de 550 000 pieds carrés à 250 000) et d'en améliorer la qualité. De plus, il misera davantage sur les usages médicaux et résidentiels.
Transformation globale
« Nous pensons détruire le centre tel qu'il est et le reconstruire de A à Z. Nous parlons d'un changement global de l'endroit. On n'est pas très fiers de ce qu'on a acheté, mais on a un très beau terrain et on va en faire quelque chose de très beau », a confié à La PresseDaniel Assouline, l'un des quatre propriétaires de l'endroit.
Plus précisément, le quatuor veut construire trois tours comprenant « entre 650 et 750 unités », après en avoir érigé une autre essentiellement à vocation médicale. La clinique, qui loue actuellement 40 000 pieds carrés, doublerait ainsi sa superficie.
Certains commerçants demeureront dans le projet. « Winners veut absolument rester et nous voulons absolument les garder, alors on va les accommoder », souligne M. Assouline.
Les travaux devraient pouvoir commencer rapidement, soit dans « 12 à 18 mois » selon M. Assouline, étant donné que « nous ne demandons aucun changement de zonage. Tous les projets remplissent les normes telles qu'elles sont aujourd'hui ».
À la Ville de Côte-Saint-Luc, le service de l'aménagement urbain affirme toutefois qu'« aucun usage résidentiel n'est prévu à l'intérieur de la zone IN-1 », dans laquelle est situé le Carré Décarie.
Criants besoins en transport
L'idée même de densifier le quartier est « louable », croit la conseillère municipale Dida Berku, qui est également présidente du comité consultatif d'urbanisme.
Mais l'élue estime qu'il faut d'abord trouver des solutions pour réduire la congestion routière « dans le corridor Décarie », où il y a « des milliers de logements en construction en ce moment », dont le Westbury. À son avis, la situation actuelle est déjà catastrophique, et on prévoit en plus construire le Royalmount et remplir le terrain de l'hippodrome.
« Le corridor est congestionné sept jours sur sept, 24 heures sur 24 ! J'ai réuni les maires de toutes les villes et tous les arrondissements pour discuter de comment faire pour traverser Décarie. C'est rendu un défi majeur. Dès fois ça prend quatre ou cinq lumières avant de pouvoir passer !
« C'est sûr que le projet du Carré Décarie ne pourra pas être réalisé tant qu'on n'aura pas un plan de transport qui permet une mobilité rapide. On est enclavés, traverser ou embarquer sur Décarie est un obstacle majeur, et il n'y a pas de solution en vue. [...] On va être responsables avant de dire oui à des projets majeurs. »
Deux autres projets résidentiels
Parallèlement à la revitalisation du Carré Décarie, 2bd construira la seconde tour de son projet Équinoxe de « condos locatifs », rue Marc-Chagall, toujours dans Côte-Saint-Luc. Il compte 310 logements. La première pelletée de terre doit se faire dans une semaine. « C'est un produit haut de gamme [...] C'est toujours ce que nous construisons. C'est notre philosophie d'affaires », mentionne M. Assouline, dont les autres tours du genre se trouvent à Laval.
L'entreprise prévoit aussi commencer à bâtir 650 logements sur un terrain qui lui appartient à proximité du centre commercial Place Vertu, à l'angle sud-est des rues Cavendish et Thimens.
L'arrondissement de Saint-Laurent nous a confirmé que le projet avait été approuvé, mais « le permis n'a pas été octroyé, car il y a encore une problématique technique avec la nappe phréatique ». Selon M. Assouline, les travaux doivent commencer dans un mois.
Qui sont les investisseurs ?
Daniel Assouline est surtout connu dans le domaine informatique. Mais il effectue en parallèle des investissements dans le secteur immobilier depuis 2008 aux États-Unis. Il raconte avoir ainsi profité de la crise. Avec d'autres Québécois, il a acquis des tours de logements à Atlanta et à Detroit. « Ç'a été une belle opération pour nous », note M. Assouline, laissant entendre que l'investissement avait bien profité depuis. Avec ses partenaires Daniel Benchtrit et Alexandre Bouhadana, il a ensuite « monté une structure à Montréal pour supporter des projets » locaux. Et Albert Lévy s'est joint à eux pour le Carré Décarie. Leur entreprise Trantor Realty vient d'être rebaptisée 2bd (un site web sera prochainement lancé).
Daniel Assouline
Fondateur des entreprises du secteur informatique Upclick, LULU Software et Adware. Il en a cédé le contrôle au printemps dernier à la société française Avanquest (filiale du géant Claranova) pour une somme non dévoilée. Il avait auparavant travaillé pour Dell.
Daniel Benchtrit
Président de l'entreprise Ove Decors. Fondée en 2004, cette entreprise familiale est spécialisée dans les domaines du bain, de l'éclairage et du mobilier d'extérieur. Sa collection OVE est offerte chez de grands détaillants tels que Costco, Home Depot, Lowe's, Amazon et Wayfair, mentionne son site web.
Alexandre Bouhadana
Sur son profil LinkedIn, l'homme d'affaires se présente comme « Senior VP Finance, Real Estate Executive ». Sur le site de Trantor Realty (2bd), il est désigné comme « associé directeur ». M. Bouhadana a auparavant travaillé pour la société immobilière SIDEV pendant plus de 18 ans, notamment comme vice-président aux finances.
Albert Levy
Cofondateur avec son frère Jimmy de la chaîne de magasins Clair de Lune, qui vendait surtout des bougies à ses débuts en 1996. La gamme s'est depuis élargie pour inclure des articles de décoration. Le détaillant compte 60 points de vente selon son site web, un peu partout au Canada, ainsi qu'à Hawaii.
- Avec la collaboration d'André Dubuc, La Presse
«Les nouveaux propriétaires du centre commercial Carré Décarie souhaitent le démolir pour construire entre autres des tours abritant 700 logements.»



Projet
Carré Décarie [6900 Décarie]
Entre 350 et 400 millions de dollars
3 tours totalisant 650-700 logements
1 tour « médicale » + locaux pour bureaux
Centre commercial de 250 000 pieds carrés
Équinoxe Marc Chagall
95 millions de dollars
315 logements au total sur 14 étages
La phase 1 est terminée. La phase 2 est imminente.
Cavendish & Thimens
200 millions de dollars
4 immeubles au total (3 de 14 étages et 1 de 8 étages)
650 logements
---